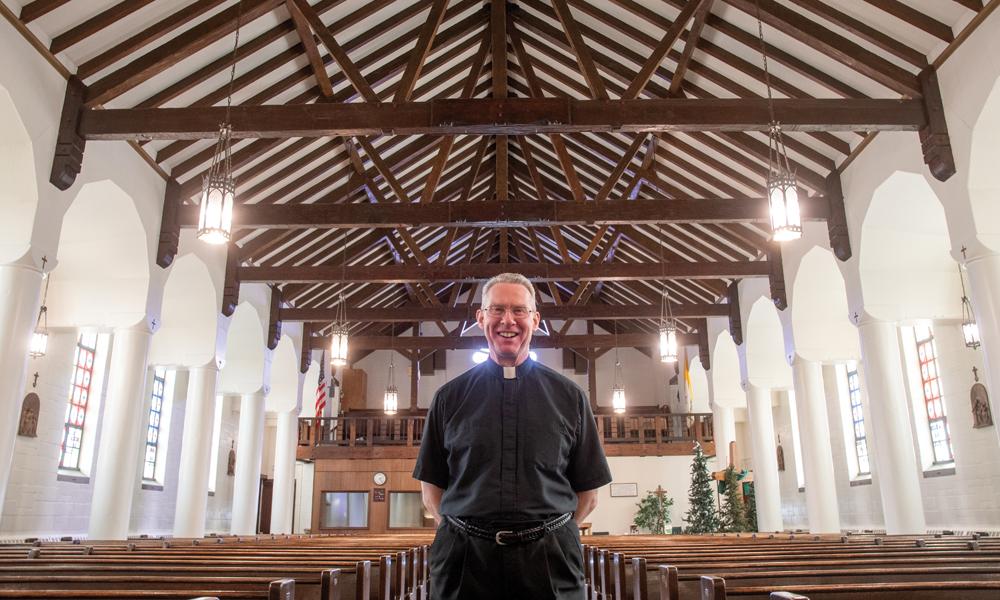 Photography by Jeff Schrier
---
Your Church Family is Calling
Priests and Parishioners Alike Have a Message: "Come Home— We Miss You!"
Father Bob Kelm recalls days during the height of the pandemic when his hands ached so badly that he barely had the strength to hold up the chalice during Mass. But the three-time survivor of COVID-19 continued to fight through the brain fog, exhaustion and lingering body aches to shepherd the flock at Corpus Christi Parish in Bay City.
Except for the times when he was recuperating from COVID, Father Bob—now the priest for two parishes in the Thumb (St. Isidore Parish, Parisville/Palms and Holy Apostles, Ruth/Forestville) juggled two of the three weekend Masses at Corpus Christi Parish, as well as daily Masses six days each week. He officiated almost all the weddings and presided at parish funerals, which increased by 50 percent during the pandemic. Father Bob also donned a mask to visit a woman in hospice dying of COVID so that he could give her the Body and Blood of Jesus and the Sacrament of Healing to her before she passed. And Father Bob, along with three other area priests, carried a pager during the height of the pandemic when it was his turn to visit the sick and dying at McLaren Bay Region Hospital in Bay City.
Though he had help from Father Kevin Kerbawy, the senior priest-in-residence at the Corpus Christi Parish, Fr. Kelm says the pandemic exacted a grueling toll. Even so, Fr. Kelm says he was simply doing the job that every other priest in the Diocese of Saginaw was called to do—acting in "alter Christus" (as "another Christ") for others.
"You sacrifice yourself the way Christ sacrificed himself," he said.
For the most part, life has returned to normal since the height of the pandemic, but Bishop Robert Gruss, Father Bob, and other priests throughout the diocese have noted a lingering effect of the pandemic: more empty church pews. Public Masses resumed at the end of May 2020 after a 10-week hiatus to keep parishioners throughout the diocese safe, but many people have not returned to in-person Mass.
To counteract that trend, Bishop Robert Gruss, priests, and others in the diocese are focused on inviting the faithful back to Church.
There is clearly work to do, said Don Buchalski, coordinator of evangelization for the Diocese of Saginaw.
"People are just not coming back," he said. "We have to go get them."
Debbie Bierlein, diocesan chief financial officer, said attendance at Mass already was on the decline for several years throughout the diocese before the pandemic, "but COVID exacerbated that." All areas of the diocese "have seen a significant decline over the COVID time period."
As a whole, in-person Mass attendance dropped by 7,692 people, or 29.1 percent, throughout the diocese from October 2019 to October 2022, Bierlein said.
"Of that 29.1 percent, 46.3 percent of that is what I attribute to the pandemic," she said.
The numbers are from the annual October Count, which provides an in-person Mass attendance count at parishes throughout the 11-county diocese. Each October, the diocese asks all 56 parishes to count parishioners sitting in church pews at weekend Masses. The diocese then averages these numbers for the month, providing a snapshot of in-person attendance for the year.
Bishop Gruss suspects the reasons why people have not returned to in-person Mass "vary from individual to individual." Some have underlying health conditions and fear contracting Covid. Another group seems content to stay home and watch Mass on television or via online live-streaming. Others have gotten out of the habit of attending Mass and have "moved on with their lives." And still others, who already had "one foot in and one foot out" the door of the Church before the pandemic, seemingly have left the Church altogether.
Whatever the reason, Bishop Gruss said he is saddened by the drop in attendance at in-person Masses. While many have returned to everyday activities like shopping, attending sporting events and going to the movies, they "haven't returned to the practice of their Catholic faith."
Before the pandemic, some churches—including the Cathedral of Mary of the Assumption—live-streamed Mass for the sick and homebound. Many priests readily admit that live-streaming Mass became an invaluable way for parish families to stay connected—especially during the period when the bishop suspended public Masses (March 17–May 30, 2020) to help prevent the spread of COVID.
Live-streaming does have its place, Bishop Gruss said, but "a person is not going to derive the same sort of spiritual benefit" from watching Mass via live-stream or on television as receiving the Eucharist in person. If people physically are able to return to in-person Mass, Bishop Gruss encourages them to do so now.
For Catholics, the Eucharist is "the source and the sum of all we do in the Church," he said.
As Catholics, it is important that the faithful understand the Real Presence and how important it is to receive the Eucharist at in-person Mass.
"The Eucharist is the greatest gift that the Lord has given to the world and to the church. He has given himself—Body, Blood, Soul and Divinity," Bishop Gruss said.
To receive this gift as intended, he says, people cannot receive it fully by watching Mass on live-stream or television.
"As St. Thomas Aquinas said, 'we become what we receive,'" he remarked.
Encouraging people to return to Mass doesn't have to be complicated either, Bishop Gruss said.
"[Everyone in the Church community needs to ask:] What can we do as a Catholic family? It's about being a Church family. Not a Church institution," he said. "I promise you that people are waiting to be invited back."
Reaching out to parishioners and inviting them back to Church cannot rest entirely on the priests and religious either, said Don.
"We are all called to become missionary disciples," he insisted.
If the Church is to come back, laity will have to play a "significant role" in that, he said, adding that the pandemic woke many of the faithful up to the fact that "they're the Church."
Father Rob Howe of Blessed Sacrament Parish in Midland has noticed that many parishioners are attending Mass, but not always regularly.
"Mass attendance can be a little like an exercise program, and when you fall out of the habit, it's hard to reestablish," he said.
So Father Rob decided to use the live-streaming technology his parish developed and grew as an evangelical ministry of sorts during the pandemic as a way to invite other parishioners back to in-person Mass during Advent last year. Father Rob asked people to stay after Mass one day and help him create a "You're Invited to Christmas!" video inviting people back home to Church. They began by singing "O Come, O Come Emmanuel" and segued into "O Come, All Ye Faithful."
In the video, Father Rob recalls how welcome he felt when he came home for the holidays after returning home from college.
"A Catholic parish, when it's at its best, is the same way," he said. "You're part of our family … you're not only welcome, but you're wanted. And you're a part of us."
Father Rob and staff at the parish then promoted the video on Facebook and Instagram and created another video called "Be Part of Our Community!"
Beginning last October, Blessed Sacrament also started introducing a program called Small Faith Groups to help engage and re-engage parishioners. People can sign up to be a part of a group of five to 12 people who meet regularly and focus on various topics like studying the Bible, service or music.
"It's a way for us to connect and to be accountable," he explained.
Father Nick Coffaro at Prince of Peace Parish in Linwood says he and some parishioners are starting to work with Don on creative ways to invite people back to in-person Mass. During the height of the pandemic, Father Nick personally called parishioners and sent Easter, Christmas and Valentine's Day cards and postcards as a way to stay connected with them.
Now that the height of the pandemic has passed, Father Nick wants to see more parishioners return to in-person Mass. While live-streaming played an important role at his parish during the height of the pandemic, Father Nick opted to discontinue it around Lent 2022.
Still, "it's a trickle, a slow increase" of people returning to the Church pews.
Working with Don, Father Nick and some parishioners have formed a small committee focused on evangelization and inviting people to parish events. During Advent, committee members called and invited people personally to attend a soup supper with evangelization as the theme. Father Nick says he was encouraged when about 100 people showed up.
Inviting people back to Church does not have to be complicated or cost money, Bishop Gruss says. The key is to "ignite the flame" that the Lord placed in people's hearts at baptism. "You have to fan the flame." Priests and parishioners need to sit down and come up with a plan, he says.
"It really is all about invitation. It's not hard. It just takes a commitment. It has to be intentional and it has to be a priority," he says. "It's about personal contact. It's about personal invitation. It's about engaging friends and family about the practice of their religion."
People in the pews know who is not attending Mass, Bishop Gruss said. Why not call and tell them that they're loved and missed? Invite them back.
"I think that can go a long way toward getting people back to the Church," he said.
Sometimes, it's those simple, one-on-one encounters between two people that make all the difference, Father Rob said.
For him, it all boils down one thing: "Be the person who says, 'I miss you.'"