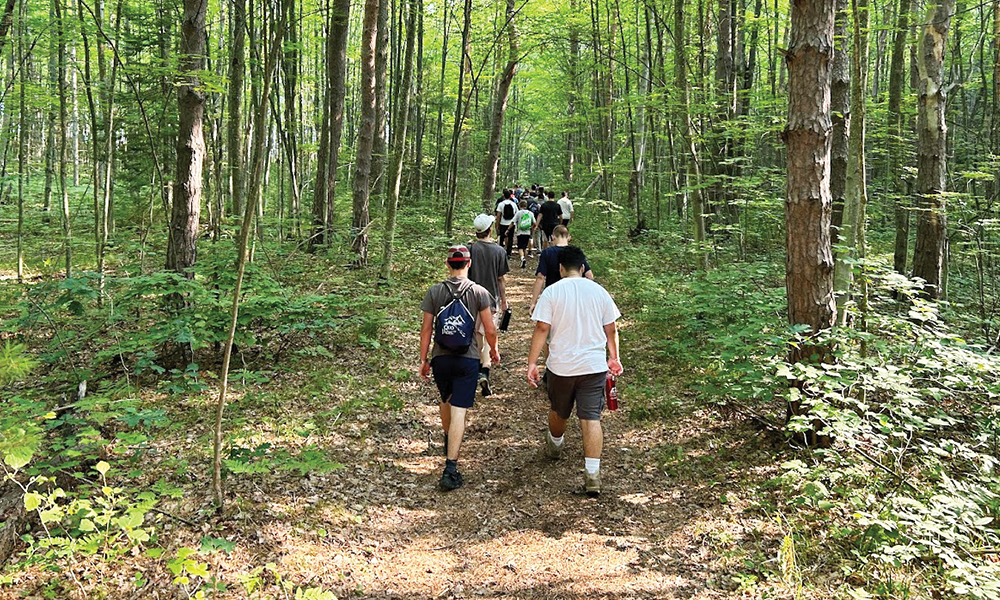 ---
Quo Vadis?
Editor's note: This summer, young men from the Diocese of Saginaw Office of Vocations and the Diocese of Gaylord participated in a unique camping experience at the Ralph A. MacMullan Conference Center in Roscommon.  Gerard LaFramboise is a member of Holy Family Parish in Saginaw's Latin Mass community. He is homeschooled and is a high school junior. This essay has been edited for length and clarity.
On July 23 through 25, I, and other young men from dioceses across Michigan, attended a camp called Quo Vadis? (Where are you going?). The camp was intended to help young men discern their vocations. The highlights of the camp for me were definitely prayer and the wonderful talks, which focused mainly on discerning one's vocation and true masculinity.
Upon our arrival, one of the first things we did was to go out into a field in the pouring rain and play some games— one of which was the most interesting game of 'sharks and minnows' I have ever played. The camp included many games and lots of fun in addition to spiritual formation.
One of the most important parts about this camp was to help with prayerful discernment, which is made clear in the name Quo Vadis? The phrase "Quo vadis, Domine?" comes from a legend that during an intense time of persecution in Rome, Peter decided to leave Rome and on his way out he saw Jesus walking towards Rome carrying his cross. Peter asked him, "Quo vadis, Domine?" which translates to, "Where are you going, Lord?" Jesus replied, "I am going to Rome to be crucified again." Whether the legend is true or not, Peter did not abandon Rome at this time.
With this question in mind, we talked about our common call to discipleship. Whatever our vocation may be, all of us are called to imitate the disciples and to lay down our figurative nets and follow Christ.
The importance of prayerfully discerning our own personal vocations was also stressed, since the vocation God calls us to is the vocation for which we are made. As one of the priests put it:  a hammer was made to hammer nails; it's a lot harder to do with a screwdriver.
Another thing that was a big part of the Quo Vadis? talks was true masculinity. Part of Psalm 26 "Act Manly" was mentioned, and they really stressed that being a man means to be morally upright. We are called to do great things for God.
We were encouraged to pray hard and be courageous. We are called to overcome fear and to do what's right— no matter how much society and the devil tell us otherwise.
Prayer was without a doubt the high point of the camp. There was Mass every day, which was awesome. We had adoration and confession for almost an hour; it was incredible. We also did part of the liturgy of the hours, which was a nice experience of a wonderful prayer. On the last day, we also prayed a Rosary by the lake, and while the Rosary is always great, it had a special aspect to it. In short, I got more powerful prayer time than I normally engage in daily.
Quo Vadis? was fun, and the talks (especially regarding discerning vocations and true masculinity) were great. Prayer was without a doubt the best part of the camp. While I cannot say that I for sure know my vocation now, I don't believe that was the intent of Quo Vadis. I believe that the intent was to help all of us who went to prayerfully discern our vocations, and I would say the camp achieved that goal.
---
These programs are supported by your generous donation to Christ's Mission Appeal.