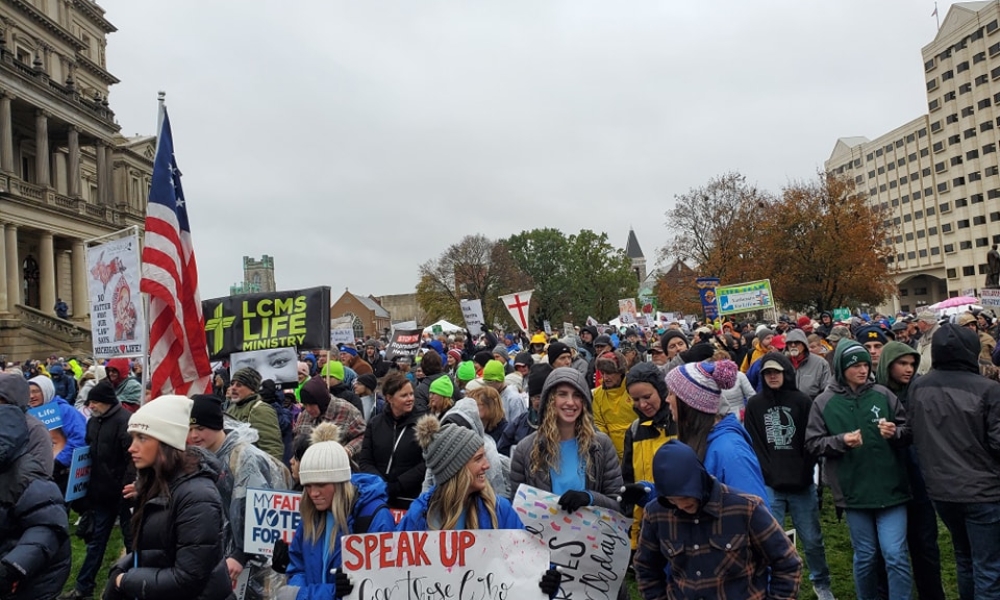 ---
Local Faithful join thousands at first Michigan March for Life
LANSING- Faithful from across the Diocese of Saginaw joined thousands of Michiganders at the March for Life in Lansing on Nov. 8. They gathered to give a voice to the defenseless and to witness to the culture of life in Michigan. 
The march took place on the one year anniversary of the passage of Proposal 3, which amended the Michigan constitution and enshrined abortion rights in the state constitution.  
Despite recent legislative developments in Michigan and throughout the country, pro-lifers showed their ongoing commitment at the Michigan March for Life joyfully and in a spirit of prayer. The day began with Mass. Worshippers filled the pews at St. Mary's Cathedral and gathered afterwards on the state capitol lawn for a rally. 
"I think it's nice that so many people in Michigan are pro-life," said Lili C., a high school student from All Saints Parish in Bay City. "[The unborn] can't speak for themselves, so it's important to stand up for them. Fighting for life is right." 
In addition to the march and rally, legislators invited students to meet with them. "We were welcomed into the offices of state representatives," said Father Andy Booms, pastor of St. Brigid of Kildare in Midland, which also includes St. Brigid Catholic School. "Our students were in awe of how they had the opportunity to influence legislation. They were impressed with how their representatives listened to them. Our students experienced the unique relationship between prayer and being faithful citizens." 
The list of speakers at the rally included Dr. Michelle Monticello, an OB-GYN from Midland. Dr. Monticello serves as medical director at Life Choices of Central Michigan in Mount Pleasant, where she oversees several programs including ultrasounds for pregnant women and a free health clinic. Dr. Monticello spoke at the rally about the importance of helping pregnant and parenting women in need. 
Jeanne Mancini, president of the national March for Life in Washington, D.C., also spoke at the rally. She shared how the pro-life movement includes people from many faith traditions, ethnicities and backgrounds. "We are mothers, daughters, sons, Democrats, Republicans, independents, but despite these differences, we are united in the belief that the inherent dignity of the human person is in everyone, especially the poorest of the poor, the unborn." 
After the rally, the crowds marched to the Michigan Hall of Justice and back to the Capitol building.  
This January, rather than holding a local March for Life in Saginaw, pilgrims from the Diocese of Saginaw will travel by bus to Washington D.C. for the 2024 March for Life. Bishop Robert Gruss will also participate in the March.  
"Our willingness to love, give and sacrifice reflect the way in which we embrace our call to hold life sacred from the moment of conception until the natural end," said Bishop Gruss. "Let us all follow the example of Jesus and care for the most vulnerable among us, both mothers and babies, born and unborn." 
Tell Lawmakers: Reject the Reproductive Health Act