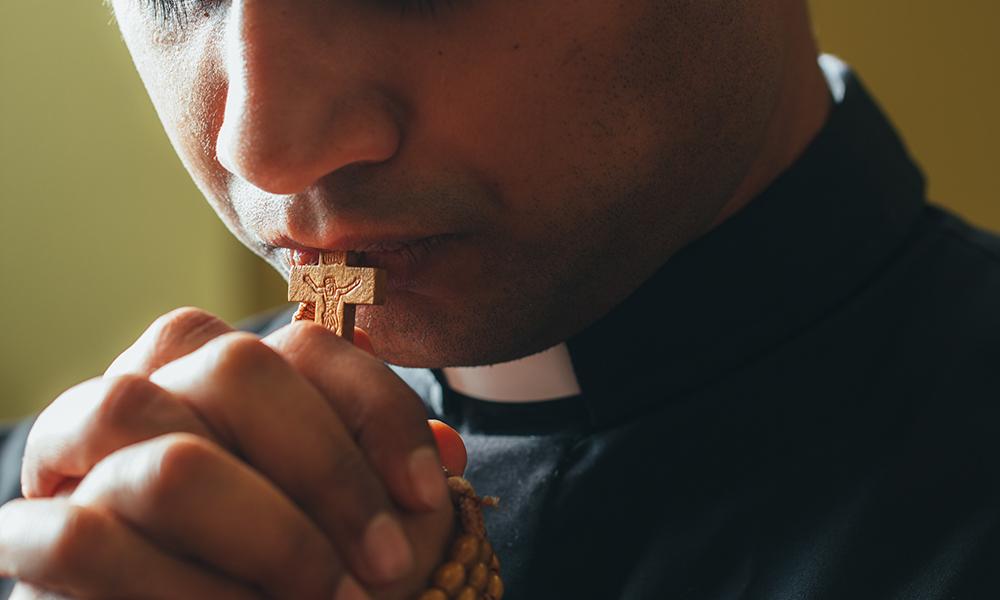 Photo by CatholicStock9
---
"The priesthood is the love of the heart of Jesus"
St. John Vianney, patron saint of parish priests, said that the "priesthood is the love of the heart of Jesus."
A relic of his heart kept in Ars, France, is sometimes brought to other parts of the world. When I was in Washington, D.C. studying, his heart was at the St. John Paul II National Shrine. During a gathering of priests, I was invited to read part of a reflection of Pope John Paul II on the life of St. John Vianney. I spoke those words to priests in the presence of first-class relics of both St. John Vianney and St. John Paul II— a great blessing and privilege!
This May, we are blessed by God with another priestly ordination for the Diocese of Saginaw. These are precious moments in the life of a local Church— even more so for us, as our priestly numbers are small, and we do not have priestly ordinations every year. I have been reading through a collection of homilies of Joseph Ratzinger/Pope Benedict XVI, most of which were given before he became pope, called Teaching and Learning the Love of God: Being a Priest Today. Pope Francis wrote a preface for this collection of inspiring homilies.
Anyone considering a vocation to the priesthood or wishing to understand the gift of the priesthood would greatly benefit from reading these homilies. One of the first is a homily that references St. John Paul II's first letter to priests, written for Holy Thursday 1979. In that letter, St. John Paul II spoke of how in many parts of the world where there are no priests, the faithful would gather in an abandoned church or, if one did not exist, in a cemetery where priests are buried. They would pray the prayers of the Mass, placing a priest's stole on the altar or gravestone, and when they came to the words of consecration, there was a deep silence, sometimes even weeping.
Imagine being one of them. What would that be like?
This speaks to the great faith and hunger of the people of God, but it also speaks to the sense of their faith in the priesthood, that there is something that they cannot give themselves but must receive through the ministry of a priest.
Only a priest can say, "This is my body" and the bread becomes the body of Christ. Only a priest can say, "I absolve you from your sins," exercising forgiveness through the power of Christ flowing through him. Ratzinger says, "This is the most profound and at the same time the most exciting gift of priestly ministry, which only the Lord can give: not only to relate his words as words of the past, but to speak here and now with his 'I,' to act in persona Christi; to represent Christ's person, as the liturgy expresses it."1
Let's rejoice and give God thanks and praise for the blessing of another priest. Pray for priests. Encourage priests. Be coworkers in the vineyard with priests. Think of how priests have blessed you in your life. The priesthood is the love of the heart of Jesus.
Jesus' heart is on fire with love for us. The mission of the priest is to bring Jesus to people and people to Jesus, to carry that fire to people longing for the word of God and the divine life offered through the sacraments, gifts that can warm them and bring them light in the darkness. May Jesus bless us with holy priests so that the encounter he eagerly desires with his beloved people can occur.
---
1 Teaching and Learning the Love of God: Being a Priest Today
---
Father Andy Laframboise is pastor of St. Elizabeth of Hungary Parish in Reese and St. Frances Xavier Cabrini Parish in Vassar and director of priestly vocations. He holds a licentiate in Sacred Theology in Marriage and Family Studies from the Pontifical John Paul II Institute for Studies on Marriage and Family.