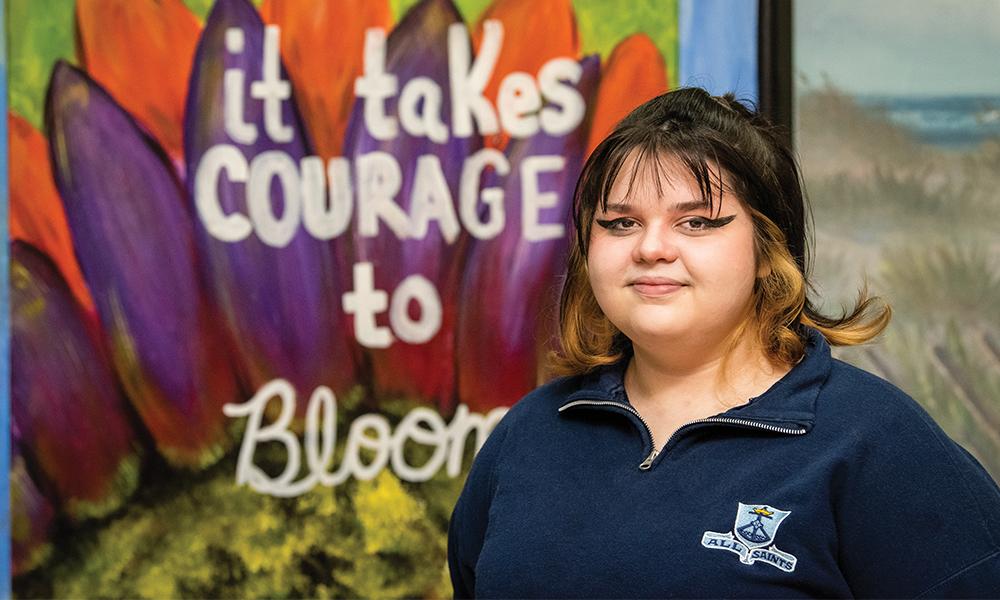 Kaitlynn Grudzinski is pictured in front of a mural she helped design for St. Joe's Room. Photography by Danielle Mcgrew Tenbusch
---
Go to Joseph('s room)
All Saints Catholic junior's idea for a mental health room brings opportunity for fellowship and a boon to mental health
When Kaitlynn Grudzinski noticed a need, the All Saints Catholic community stepped in to not only meet that need, but go above and beyond.
Kaitlynn, a junior at All Saints Catholic Middle and High School and a member of Our Lady of Czestochowa Parish in Bay City, has struggled with her mental health since she was in kindergarten.
"I know how overwhelming it is," she said. "I wanted to help younger students because I know how it feels myself, and it pains me to see others have to work through that."
Last year, an idea began to form. What if there was a space students could go, accompanied by an adult, when the day became too much?
"That was the main idea, to make it like a sensory room so people would have a place to come, calm down and just chill out," Kaitlynn said.
She and Amy Wisniewski, an art teacher at All Saints Catholic who adopted the project, brought the idea to then-principal Krista Willertz, who now serves as the Catholic identity and curriculum coordinator for the Office of Catholic Schools.
"She was such an advocate for supporting mental health within our school," Amy said.
After Krista transitioned to her current position, Keith Wetters determined the space that could become the mental health room— a large space with plenty of natural light, wall space and potential. A group of students began to help with cleaning and preparing the room.
"This room speaks to the importance of experiential learning. Kaitlynn had the original idea, but many other students cooperated to make this room a reality. I see the walls, the decorations and know that behind them was a student who took the time to make the room beautiful," said Sister Maria José Perez, assistant principal. "Like St. Joseph, our students are using their gifts and talents to provide for their family, in this case the All Saints family."
The team working on the room also realized they needed to name the space.
They'd been calling it by its number— Room 319. Then, one day, Amy had a realization.
St. Joseph's feast day is March 19. (This year, March 19 was a Sunday, so the solemnity was transferred to Monday.)
"It all came together," Amy said.
They added a statue of St. Joseph holding the child Jesus and named the space after him:  St. Joe's Room.
Since then, the room has been given new life with a fresh coat of paint, furniture and upcycled décor such as a vintage door room divider and plastic dividers from the height of the COVID-19 pandemic that have been painted and placed in the windows to resemble stained glass. The room includes games, fidget toys, music and a coffee bar manned by students in return for service hours.
Sister Maria José added that by the students themselves working on the room, they are developing responsibility. The design and use of upcycled materials was born out of Amy's passion and background in interior design, painting and repurposing furniture. She brought this valuable experience to share with students working on St. Joe's Room, who have learned many of those skills. They've learned about budgeting, too.
"You have to work with what you are given," Kaitlynn said. "That can be challenging at some times, but yet, it can work better sometimes because you get more creative with it."
One of her creative décor ideas is to construct a plant wall from old pallets that is still in the works.
The vision for the room has also expanded to include being open to high school students to gather before morning classes and during lunch periods. Amy hopes it will be a space where students can disconnect from phones, spend time with friends, calm down and pray.
"It will give people a place to hang out. We don't really have that many places to do that on campus," she said.
Before classes begin, high schoolers generally wait in the hallways.
"The room provides an atmosphere conducive to building community. Wholesome recreation is a great way to help us all build resilience, to have our spirits uplifted by sharing lighthearted moments with friends," Sister Maria José said.
She noted how peaceful students are after visiting the Adoration Chapel at All Saints Parish next door, and is glad this room provides students with another opportunity to reflect during the school day.
"I look forward to seeing how the Lord uses this room for the good of our students," she said.
During the school day, the St. Joe's Room will be locked. If a student needs to use it, a teacher will accompany the student and sit, pray or talk with them for as long as they need. This will also allow students to work through issues while still on campus, resulting in fewer missed classes.
These types of spaces are becoming more common in schools, said Minerva Gonzalez, a licensed social worker who serves as the youth and young adult ministry coordinator for the Diocese of Saginaw.
"It is a space with tools students can use to self-regulate and manage anger, over-stimulation and stress. It provides a safe outlet and a means to develop healthy coping skills to learn more effectively," she explained. "Some of the benefits include calming, improved focus and safe socialization."
Minerva added that a calming space can benefit any student who needs it by reducing stress and aggression and motivating learning.
The St. Joe's Room was finished in late April, complete with donated furniture and fresh coffee. Amy said students, including those with sensory and mental health challenges, have expressed deep gratitude for the space.
"It makes me feel excited— especially since next year is my senior year, because then I'll be able to use it myself," Kaitlynn said.
In some ways, she sees the St. Joe's Room as her legacy she is leaving at All Saints Catholic. She hopes the room will be available to middle school students as well and the idea will spread.
"I know that not only high schoolers have to deal with problems— everyone does," she said. "Those problems are valid, and they should be cared about and handled in a way that makes sure everyone is safe."
Now, students can take a modified version of the advice of so many saints in the Church's history— "Go to Joseph," or, in this case, "Go to Joseph's Room."