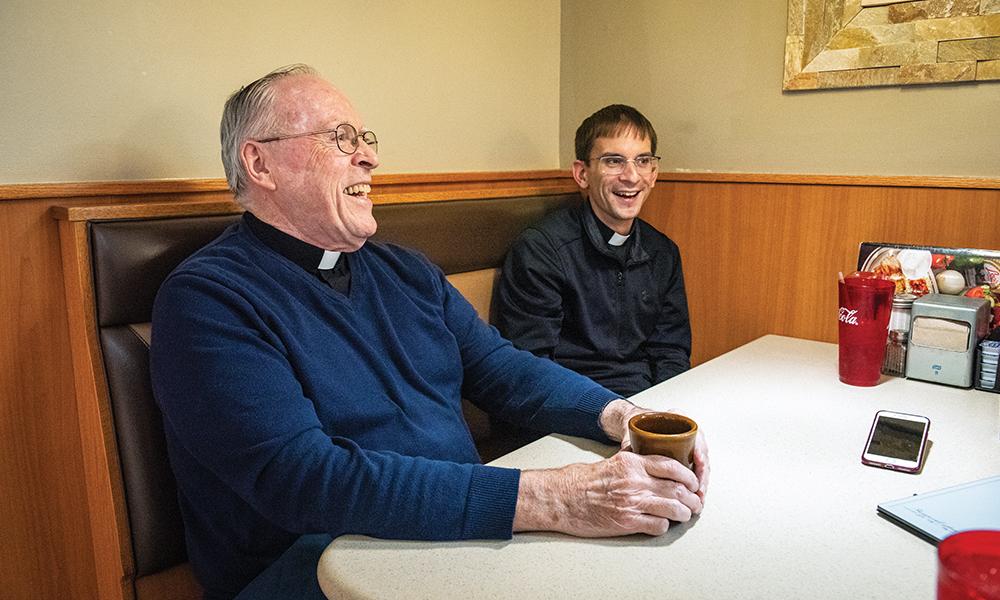 Photography by Danielle McGrew Tenbusch
---
"Every day, I'm grateful."
Two priests reflect on their vocations
They took two very different paths to get to a similar destination.
Father Tom McNamara and Father Andy LaFramboise, two priests in the Diocese of Saginaw who got to know each other during Father Andy's pastoral year during seminary, say they appreciated the guidance of experienced priests in their formation.
Five decades ago, Father Tom was teaching high school government classes at Lake Fenton High School when Bishop Francis Reh established the permanent diaconate in the Diocese of Saginaw.
"I was always involved in the church here at home on weekends," he said, explaining that during this time he met Bishop Reh, who supported and guided him along his vocation path. "I owe it all to Bishop Reh. I read about the diaconate in the Catholic Weekly. … Classes were mostly on the weekend, and I thought I could handle that. As I got into it I liked it more and more."
After three years of formation classes, Bishop Reh ordained Father Tom as a permanent deacon in June 1980.
"Then, Bishop Reh nudged me a little bit [to consider the priesthood]," said Father Tom. "He didn't want to rush me, but [he] asked me to think it over."
So he did, and Father Tom discerned he should 'give seminary a try.' He submitted a letter to the Lake Fenton High School administration, who granted him a leave of absence.
"If it didn't work out, I'd still have a job," he explained.
Following the path the Holy Spirit set before him, it did work out. Father Tom entered St. John's Seminary in Plymouth and was ordained a priest by Bishop Reh on June 4, 1982.
Father Andy sensed his call to a priestly vocation earlier in life. He was a freshman in college when he heard then-Bishop Robert Carlson talk about vocations. Though he grew up in a family that prioritized faith with daily prayer and regular Mass attendance, the priesthood had never crossed his mind.
"It was kind of a wake-up," he said. "I started to think who's going to give the sacraments to my family in the next generation?"
He thought of his eight siblings and about his future nieces and nephews. He realized that someone needed to say 'yes' to the Lord's call for priests— and maybe he could be that someone. Still, he wasn't sure that was his vocation.
Another significant event that nudged Father Andy was the death of Pope St. John Paul II in 2005.
"I remember being struck by the coverage and really found myself reflecting on how one person's 'yes' to God can impact the world," he recalled.
Although he still wasn't yet seriously considering the priesthood, the next day put him on the path toward seminary.
"We were at Mass for Divine Mercy Sunday, and we sang a song [called] 'Lord when you came to the seashore,' which is all about when Jesus asked the disciples to lay down their nets and become fishers of men," he said. "I was touched by the Lord that this was something he was asking of me."
Shortly after this, Father Andy entered Sacred Heart Major Seminary in Detroit and was ordained by Bishop Joseph Cistone on May 30, 2014.
Entering seminary is only part of a priest's formation, though. Both Father Tom and Father Andy said having good role models is important.
Father Tom said Father Cornelius McEachin and Father John Troester particularly helped with his early training and mentorship. When he was first ordained, Father McAcken showed him what parish life was like at St. Anne Parish (now Prince of Peace Parish) in Linwood.
"There were two of us in Linwood. We had five Masses on a weekend, and I didn't really know what to expect," he said.
From that experience at a large parish and a school with 180 students, Father Tom went on to pastor at other parishes with schools, including Sacred Heart Parish in Mount Pleasant and St. John the Evangelist Parish (now St. Jude Thaddeus Parish) in Essexville. He said Sacred Heart Parish was one of the most challenging, but also the most fun, because of the activities at the school.
Just as Father Tom found inspiration and mentorship in his brother priests early on, so too does Father Andy look up to priests like Father Tom.
"I think that for one, you learn how to be a priest partly from other priests," he said. "The Lord bestows his grace, but when you've got a good example of that, you're learning how to be a pastor, you're learning how to serve people."
Seeing the older priests continue to be generous with their service and to be joyful is an inspiration, he added, describing it as "a great encouragement."
The two priests had the opportunity to spend a year together during Father Andy's pastoral year in seminary, which benefitted them both.
"It was very good for me to have someone young around and to see such sincerity in his life and how he wanted to be a priest," Father Tom commented.
Since they were both early risers, he and Father Andy would often talk over breakfast so they could get to know each other, and he could pass on some wisdom from his decades of preaching.
"It does inspire you to see a young person coming up like that – the priesthood is in good hands," he said.
Father Andy appreciated his advice on how to best minister to a parish.
"I learned from Father Tom [about] just treating people with great kindness and warmth," he said. "Father Tom really exudes that, the way he preaches— people really appreciate that."
He also said he noticed how Father Tom's calm demeanor and respect for others, including those with whom he disagreed, helped him be both a better minister and administrator.
"Being a calm leader, there's always going to be stressful things, difficult things, but you just want to be rooted and peaceful," he said.
Both men also appreciated the leadership of several different bishops over the years. Father Tom recalled Bishop Francis Reh, Bishop Ken Untener, Bishop Robert Carlson, Bishop Joseph Cistone, Bishop Walter Hurley and Bishop Robert Gruss.
They both particularly appreciate the mentorship, attention to the brotherhood of priests and attention to vocations that they see in Bishop Gruss.
"He's not just the bishop; he's a good model. … I just think he's a great example of a priest," Father Andy said. "I think he's a priest's priest. He is someone who loves his priesthood, and for me, I love that it's so clear for him – it's all about Jesus. Ultimately, we're all priests because of Jesus."
In following Jesus, they have found joy.
"I didn't have any unhappy days," Father Tom said of his 40 years serving in the diocese. "Yes, there were rough days, but I was always happy."
Father Andy has never regretted the decision to take a leap of faith to join the seminary.
"Every day I'm grateful," he said. "There are days I've said, 'Lord I don't know what I'm doing' and that may have been yesterday, and probably will be tomorrow, but it makes you trust in the Lord. He is the Good Shepherd."