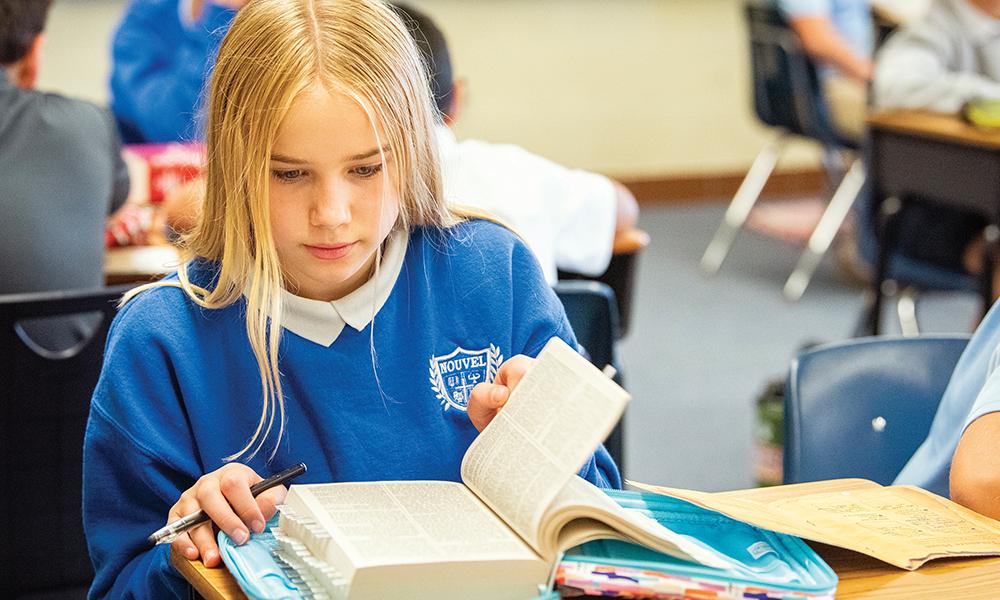 Sixth grade student Allie Kuligowski uses a Bible in her religion class that was a gift from the St. Joseph Society of the Catholic Community Foundation of Mid-Michigan. Approximately half of the CCFMM's disbursements for 2022 benefitted Catholic education. Photo by Danielle McGrew Tenbusch.
---
CCFMM Wraps Up 2022 With Nearly $1 Million in Disbursements
This has been a blessed and busy year for the Catholic Community Foundation of Mid-Michigan (CCFMM). Below are highlights of 2022, the Foundation's 16th year of operation.
Grants and designated distributions
The CCFMM distributed more than $900,000 during the past year with almost half of the funds earmarked for Catholic education in the Diocese of Saginaw. Cormac Lynn, superintendent of schools, said the funds impact virtually every aspect of the schools' operations.
"From helping to fund unique faith-based formation opportunities, professional development for our staff and faculty, financial aid for families seeking a Catholic education to new playground equipment, it is likely that anything you can put your finger on in our schools has been made possible directly or indirectly as a result of CCFMM endowments," he said.
Other Foundation disbursements benefitted Catholic agencies and organizations, religious education programs, the Saginaw Diocese and parishes.
Luncheon with Catholic Investment Experts
Last spring CCFMM presented its first annual Investment Forum where donors had the opportunity to hear from financial experts who manage the Foundation's assets, including return on investment and the policy of socially responsible investing. The Foundation works with National Catholic Investment Pool consultants from CAPTRUST, which has been advising Catholic institutions for more than 36 years.
Mark your calendars for our next Investment Forum on May 10, 2023!
More CCFMM stories shared
The Foundation continues to write and share important stories about its generous founders, donors and special individuals in whose name funds have been established. Some of our recent stories spotlight James Cardinal Hickey and his commitment to St. Brigid, his Midland Catholic school,  the new Hopeful Future Scholarship for pregnant local college students and others. To read those stories and more, visit ccfmm.org/communityimpact.
2021 CCFMM Audit Report
A clean 2021 Audit Report for CCFMM was issued by Yeo and Yeo CPAs & Business Consultants. Below is an excerpt from their document:
We have previously audited the Catholic Community Foundation of Mid-Michigan's financial statements as of December 31, 2020, and we expressed an unmodified audit opinion on those financial statements in our report dated June 7, 2021. In our opinion, the summarized comparative information presented herein as of and for the year ended December 31, 2020, is consistent, in all material respects, with the audited financial statements from which it has been derived.
The full report can be accessed at ccfmm.org/investment-finances
Online church Nativity Gallery launched
During Advent, we await the birth of our Savior in a humble stable by displaying nativity sets in our churches and homes. To honor this Catholic tradition, which was begun by St. Francis in 1223, CCFMM created an online Nativity Gallery featuring some of the beloved nativity scenes from churches around our Diocese. Photos can be viewed at ccfmm.org/ccfmm-nativity-gallery.